As usual, most people wait until the last minute to get their significant other the perfect Valentines Day gift. Here are some good quick ideas, that are also wallet friendly!
For Her:
 Always remember when buying a gift for the important lady in your life that most women want you to put more thought into the gift than money. (Although any girl will go gaga for diamonds, whether she admits it or not!)
1. A handwritten card is a great start to any gift. It doesn't have to be fancy at all, a folded piece of construction paper with a heart on it will instantly put a smile on her face. Inside write a heartfelt message, it doesn't  have to be corny,just be genuine.
2. If your girl likes flowers, and EVERY girl does, a surprise delivery is a great idea. Whether you get them sent to her work or drop them off at her house while she's not home, a girl always appreciates a surprise. (You may need to recruit her friends or family to ensure that it is a complete surprise.) As far as florists, one of my favorites is Teleflora.com. Their arrangements are gorgeous and start at only $29.99.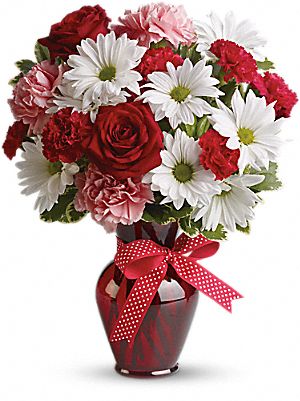 This is the Hugs and Kisses arrangement starting at $39.95.
3. All girls love brand names. However, brand name gifts can get a bit expensive. Tricks to finding an affordable gift at an upscale store are simple. Shopping online is super helpful. Most stores have a link to suggested Valentines gifts and sometimes offer discount codes on the home page. At Coach.com categories of price are offered. If you want to spend under $100 dollars they have great gift ideas. From keychains, wristlets, shoes, jewerly, and much more, you are bound to find something your special lady will love!
4. JEWELRY!!! Jewelry is always a great gift idea, but try to stray away from the typical advertised specials. By getting her the popular heart pendant, there is a high risk one of her close friends will also have recieved the same necklace and some of the meaning will get lost. Try to look at jewelry and pick something she will truly love. It does not have to be a heart shape! My favorite jewelry store is Tiffany.com. Any girl will feel special to own a real piece of Tiffany & Co. Jewelry! A great feature of the Tiffany website is the category pricing. By choosing to view jewelry only in the price range you can afford, you won't get sticker shock and will feel more comfortable with your purchase. All of these gorgeous pieces are under $250.00!
Shop Tiffany.com for even more ideas!
5. A giftcard to a local spa is a great idea to pamper your lady. Plan a day of pampering for her, then treat her to a nice dinner at a romantic restaraunt. Research local restaraunts that have live music and a Valentines Day special menu. This way you get the most for your money, and she will appreciate how much thought you put into the date.
For Him:
Finding the perfect gift for your beau is a little more difficult than expected. Always keep his interests in mind and don't buy something you wish he would wear but know isn't his style. Because boys are harder to shop for, I've organized the gifts by the type of man your shopping for.
For the Frat-Guy: Preppy is the way to go if your buying for a fraternity man. Brands like Ralph Lauren, Tommy Hilfiger, Jcrew, Vineyard Vines, and Lacoste.
Vineyardvines.com has a collection of college ties, which are perfect for any frat guy who is constantly dressing up. $75.00
For the Outdoorsy Type: